In Israeli-Palestinian conflict the policy "meet quiet with quiet" turned on July 2014 to violence leading to ongoing operation Protective Edge. Again one can see usual vicious cycle like few times before: Hamas terrorizes Israeli civilians with rockets, Israel responds and tries to disarm Hamas' terrorist infrastructure, the innocent civilians on both sides of the border are paying the price, once again, and that military action will not guarantee long-term stability or peace.
Hamas is trying to claim a symbolic victory over Israel. But the longer the conflict lasts, the more complications the militants in Gaza face as they see their threat of force erode with time – that their tool is becoming less effective. Since the beginning of the operation, more than 2200 terror targets in Gaza have been eliminated, however the real conflict is yet to follow if all three possible stages – an integrated air and sea assault, a ground operation from the Army, and the third part if needed would be expanding the operation including recruiting more reservists- will be implemented. The coming days will show whether this conflict will end as earlier ones or is it sliding into a full-blown war.
Media attention in Israel and abroad is starting to shift to Ukraine for the first time in days after reports are flooding in that a Malaysian Airlines commercial jet was shot down. Already earlier there was competition for media space due IS(IS) activities in Iraq and Syria. My forecast is that in one to three weeks (depending how deep ground operation Israel implements) there will be a ceasefire for two-three next years.
End of story? Not yetas in my opinion this time there are few aspects which are significant in comparison to earlier operations. I would like to highlight three of them: Increased capacity of Hamas, critical attitude from Arab states which is making the political impact of Hamas operation less effective and civilian to combatant deaths ratio.
Reinforcements 1: New rockets
Hamas has now better capacity to implement its operations due two significant means – the new longer range rockets and the offensive tunnels. A novelty in this latest conflict is the apparent use by the Palestinians of an even longer-range system – thought to be a Syrian built-missile – the Khaibar-1. This was first used earlier this month and has a range of up to 160km which brings Israel's northern coastal city of Haifa within reach. A weapon that crops up in some of the reporting has the designation M-302 which has a similar range. Range here is crucial. Bringing the population of major Israeli cities under threat, however inaccurate the weapon, causes huge disruption and fear.
Earlier Hamas has used shorter-range systems like heavy mortars and Grad and Qassam rockets with ranges of up to 48km (30 miles) and 17km respectively. They threaten towns and cities in southern Israel, like Sderot, Ashkelon and even Beersheba and the port of Ashdod. There is also the longer range Fajr-5, sometimes also designated the M75. It can reach up to 75km, threatening major population centres like Tel Aviv and Jerusalem.
Here is a report from Israel Defence Force (IDF) intelligence on Hamas' and Palestinian Islamic Jihad rocket arsenal:
Short range (15-20 km)
Over 2,000 units of self-produced rockets (15 km)
Over 3,500 units of smuggled rockets (15 km)
Approx. 500 units of self-produced Grad rockets (20 km)
Approx. 300 units of smuggled Grad rockets (20 km)
Medium range (up to 45 km)
Approx. 400 units of self-produced improved Grad rockets (45 km)
Approx. 1,600 units of smuggled improved Grad rockets (45 km)
Medium-Long range (up to 80 km)
Over 500 units of self-produced medium range rockets
Several dozens of rockets (80 km)
Long range (100-200 km)
Tens of long-range rockets (100-200 km)
In Total: Approximately 9,000-10,000 rockets
The latest generation of rockets it has acquired can reach the population center of Israel: the triangle of Jerusalem, Tel Aviv and Haifa. However, these are rockets, not missiles. That means they have no guidance system, and their point of impact once launched is a matter of chance. Given these limits, Hamas hoped having a large number of rockets of different ranges would create the risk of substantial Israeli civilian casualties, and that that risk would deter Israel from action against Gaza. However for example using the Fajr-5 brings huge practical problems. It is heavy and fairly large – some 6m (20ft) tall. It requires mechanical handling and needs to be pre-positioned in hidden launch sites and camouflaged from the prying eyes of Israeli drones.
Besides new rockets of Hamas there is also other increase of similar capacity. Armed groups linked to Fatah say they began launching rockets and mortar shells into Israel Wednesday 16th . The Nidal Al-Amody force of Al-Aqsa Martyrs' Brigades claimed responsibility for firing Grad and 107 millimeter rockets toward Ashkelon, Sderot, Netivot, Kibbutz Ein Hashlosha and the Sufa Crossing from Gaza. Communiques specifying the attacks were published on Fatah's official Facebook page. On 17thanother armed force associated with Fatah, the Abdul Qader Husseini Battalions, claimed responsibility for launching two Grad rockets at Ashkelon and four mortar shells at Kibbutz Nir Oz. Fatah's FB title: "The Al-Aqsa Brigades and the Abdul Qader Husseini Brigades have proven today that they are the most loyal to the blood of the martyrs."
For the first time in this conflict rockets were fired from Lebanon at Israel, targeting the northern town of Metula early on Friday. According to defence sources they were likely fired by a Palestinian group, and not by Hezbollah.
In addition it's now been discovered that what the IDF shot down on 14th July was not a rocket, but an unmanned drone launched from Gaza. This represent an escalation of Gaza's capabilities and attempts to attack Israel. The drone was shot down by a Patriot missile and it was the first time a Patriot has been launched at a target in Israel in 20 years.
Reinforcements 2: Offensive tunnels
Offensive tunnels have become a strategic weapon for Hamas in recent years. Gaza militants were en route to ambush the string of agricultural communities that are just a few hundred feet of fields away from the border. Israeli border kibbutz became a war zone.It highlighted the potency of Hamas' network of border attack tunnels: the Islamic militants penetrated Israeli territory three times in three days and want to open a new front in the battle against Israel by targeting the border kibbutz. (Source and more in WSJ )
Israeli sources admit that they have been surprised by the extent of the tunneling under the border. This "blind spot" in Israeli intelligence can be explained by the strict compartmentalization of the digging operation in Gaza, which was not carried out not by Hamas members, but by families from Rafah which specialize in tunneling. These families controlled the smuggling tunnels from Egypt and were brought in as contractors by Hamas. Israel is now claiming that a large proportion of the concrete it allowed into Gaza in recent years for civilian building was used in the tunnels' construction. This tunnel system was designed to be the Palestinian Islamists' highest strategic asset, Around 16,000 men, around 15 percent of Hamas' fighting strength, were assigned to the tunnel project in the last five years and substantial funds.
On Oct. 10th , 2013 Israeli Army discovered a tunnel dug by Palestinians from east of Abasan, in southern Gaza.According Al-Monitorthe passageway lies 20 meters underground, is 2.5 kilometers long, and has a ceiling high enough to accommodate a man of average height. The tunnel is also remarkably wide. Its construction required 800 tons of concrete and cost an estimated $10 million. Some 100 workers toiled on it for more than two years. It was equipped with a communications network and electricity and contained stockpiles of cookies, yoghurt and other foods to allow for stays of several months.
Defense analysts admit that the threat of the cross-border attack tunnels is even more potent than Hamas's rocket arsenal because of the risk of mass casualties or a kidnapping from the border. Israel's military said destroying the Hamas tunnel network has become a main goal of their ground operation into the Gaza Strip, in addition to stopping rocket fire. (Source WSJ )
So far, Hamas has lost 13 of these kind of offensive tunnels, some of which Israel possesses both ends of, with Israeli troops having taken control of the entry points in Gaza. Still ahead of the Israeli operation, after the troops finish cleansing Shejaiya are similar challenges to dismantle Hamas' offensive capabilities in another three of their Gaza City strongholds: Shaati, Al Bureij and Nuseirat, before Hamas' terrorist infrastructure can be said to have been disarmed. Israel is making every effort to find and destroy all of the remaining tunnels before Operation Protective Edge comes to an end. It is estimated that construction similar tunnels takes around three years.
Civilian deaths
"Anyone killed or martyred is to be called a civilian from Gaza or Palestine, before we talk about his status in jihad or his military rank. Don't forget to always add 'innocent civilian' or 'innocent citizen' in your description of those killed in Israeli attacks on Gaza."(The Hamas guidelines to Gaza Strip social media users for reporting events and discussing them with outsiders)
The role of civilians during ongoing operation Protective Edge is traditional one: Hamas and other Palestinian terror organizations intentionally target Israeli civilians and use the population of Gaza as human shields, storing and firing rockets from within populated areas. One example during this ongoing operation was when twenty rockets have been hidden in a Gaza school operated under the auspices of the United Nations Relief and Works Agency, officials from the organization confirm. UNRWA officials in Israel are summoned to the Foreign Ministry in Jerusalem, where they apologize to Israel for the incident. Despite this United Nations officials handed the rockets found in Gaza school over to Hamas so they can be shot at Israel.
Israel aims to targets included buildings used by the Hamas leadership, the homes of senior Hamas members, tunnels, underground launchers, communications infrastructure, military bases, and weapons caches. The IDF and Shin Bet intelligence agency joint targeted the homes of a series of Hamas leaders that were used as command and control centers by the military wing of Hamas. Israel does not intentionally target Palestinian civilians; in opposite the IDF takes extraordinary measures to avoid Palestinian civilian deaths. This is the core difference between Israeli and Hamas approaches and in my opinion it will give justification to this discussion about disproportion.
The former Commander of the British Armed Forces in Afghanistan, Col. Richard Kemp, gives an insider view to civilian casualties in conflicts:
"The UN estimate that there has been an average three-to-one ratio of civilian to combatant deaths in such conflicts worldwide. Three civilians for every combatant killed. That is the estimated ratio in Afghanistan: three to one. In Iraq, and in Kosovo, it was worse: the ratio is believed to be four-to-one. Anecdotal evidence suggests the ratios were very much higher in Chechnya and Serbia. In Gaza, it was less than one-to-one."
As example Col.Kemp probably has earlier Gaza operation Cast Lead (2008-2009). The militants are hiding, and their weapons are located, among their own people. For example, Israel has bombed 1,100 targets in Gaza in Operation Protective Edge, with an average of one civilian killed per 14-15 attacks. In the war in Kosovo, 500 civilians were killed in 900 air attacks by NATO forces, i.e. more than one fatality per every two attacks.
It is worth noting that many of the civilian casualties can be attributed to Hamas's use of human shields, as they have encouraged civilians over and over again to become human shields as an "effective strategy" in the PR war against Israel. In addition, several of the rockets fired from Gaza have never made it on to Israeli soil, and may be partially responsible for Palestinian Arab deaths from within Gaza itself. According to the IDF Spokesperson's Office, over 100 rockets fired at Israel have fallen short of their targets, causing an unknown number of deaths. In addition Hamas has also during Operation Protective Edge executed many Palestinians due to collaboration or spying for Israel.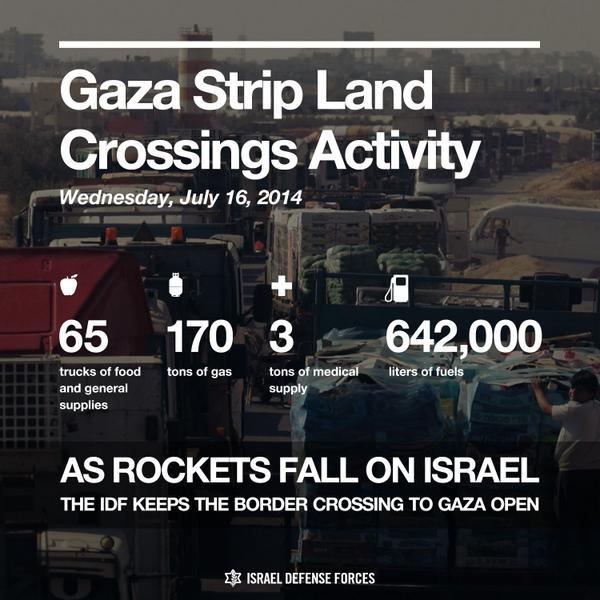 Israel is attempting to avoid civilian casualties with warning strikes (rockets which make a noise but do not explode), telephoned warnings to specific houses, as well as broadcasts to the civilian population urging them to distance themselves from armed groups and their infrastructure. (More in my articleMinimizing Collateral Damage In Gaza Conflict) Israel has kept open crossings for goods to enter the Gaza Strip, in contrast to Egypt which keeps its Rafah border with the Strip mainly closed. Medical patients from Gaza continue to enter Israel for life saving treatment on a daily basis. IDF warnings have been documented in certain cases, and even the civilians in Gaza admit in a number of instances that they were warned by the IDF. (More in Globes )
Saying all above I estimate that the civilian to combatant deaths ratio during Operation Protective Edge will be much higher than in previous operation as the targets are now better hide among civilian population and because of encouraging civiliansto become human shields.
Speaking about Israeli civilian deaths I expect them to be minimal like during earlier operations. Sure more people are in danger due to Hamas' new rockets but also there is better Iron Dome system for protection. Iron Dome batteries are made up of interceptor missiles: radars and command systems that analyse where target missiles might fall and only intercept those deemed to be heading for civilian areas. ( More about Israel missile defence in my article ( More about Israel missile defence in my article Will Iron Dome balance the Hamas Terror? ) . Israel has also invested – as opposite to Hamas – lot of efforts for warning signals and shelters for Israeli civilians. All this means that the death ones in Israeli side will be soldiers especially if ground operation takes more weeks to end.
Hamas losing political support
Hamas must be disappointed at the Muslim world's reaction. Hamas did not get the usual reflexive support and fiery backlash against Israel. In fact, it appears that the terrorist group's largest support is coming from protests in Europe. The latest round of fighting is remarkable in what did not happen. There weren't automatic mass demonstrations against Israel and the West. No major riots or countless photographs of Israeli and American flags on fire across the region. (Source and more: ClarionProject )
The offensive waged by Hamas against Israel from the Gaza Strip has sparked intense criticism in the Arab media, reflecting the movement's deteriorating status in the Arab world.Media in Saudi Arabia, Syria, and Egypt blame Hamas' actions for inviting Israeli counter attacks and prioritizing conflict over the safety of the Gazan population and criticized the leadership for waging war far from the conflict, a Middle East Media Research Institute (MEMRI) report shows.

For example in an article titled "Gaza Is not All Hamas", Dr. Nagla Al-Sayyid, a columnist in the Egyptian daily Al-Gumhouriyya, wrote that Hamas was losing its legitimacy because it was trading in the blood of Palestinians while exploiting the financial aid it was receiving to promote its political and ideological interests. Dr. Amal 'Abd Al-'Aziz Al-Hazzani, a columnist for the London-based Saudi daily Al-Sharq Al-Awsat, wrote that Hamas sacrifices the people of Gaza while falsely claiming victory over Israel. "Adding fuel to the fire of the Gaza victims is the repeated media hypocrisy and the disgusting tear-jerking speeches that we don't stop hearing every time Hamas decides to sacrifice some of the people of Gaza. Only rarely do they speak the truth. The Arab street doesn't want to hear anything aside from curses against Israel, and that is easy, because we've been cursing it for over 60 years. After Hamas political bureau head Khaled Mash'al criticized Egypt's Gaza policy by saying, "We expect the Egyptian army [to use its] spirit of heroism for the sake of its Arab nation,"many columnists in the Egyptian media responded with fury. For instance, in an article titled "Why Isn't Khaled Mash'al Giving His Life In Gaza?", columnist Hamdi Razaq argued that, while Egypt is defending the Palestinian cause, Hamas has "sold" it to the MB, and Mash'al himself is enjoying a life of luxury in Qatar. He wrote: "Where is your spirit of heroism, Abu Walid [i.e., Khaled Mash'al]? Join your brothers. The media in Syria, which is likewise resentful of Hamas and its leaders due to their support for the rebellion against President Bashar Al-Assad, also slammed this movement, saying that it has abandoned the resistance in favor of a Western plan to destroy the Arab world, and that Mash'al has chosen to manage the war not from Gaza but rather from Doha, the capital of Qatar, a country known for its support for the MB and "in whose palaces the Israeli and Western intelligence cells nest."
Finally also Egyptian Foreign Minister Sameh Shoukry blamed Hamas for the situation, telling Egyptian newspaper editors, "The parties that oppose the Egyptian cease-fire initiative bear responsibility for the Palestinian blood being shed." (More about cease-fire intiative in Bicom article)
What's motivating Hamas to commit suicide – or temporary one at least – now? One reason might be that the last few months it has become quite clear that the economic crisis in the Gaza Strip is dictating the fate of the movement and its leaders. Egypt has closed the Rafah crossing is closed; there aren't enough tunnels to bring in ammunition, luxery items and other merchandise for profits of Hamas elite which lacks money to pay salaries to its bureaucrats and fighters.
The latestPew poll  shows that only 35% of Palestinians have a favorable view of Hamas. About 63% of those in Gaza and 47% of those in the West Bank have an unfavorable view. That means that the political position of Hamas has done a 180 degree turn. The survey also found that 65% of Palestinians worry about Islamic extremism, consisting of 79% of those in the Gaza Strip and 57% of the West Bank.
When Hamas first took the Gaza Strip it presented itself as fighting the corrupt Fatah administration, but now the people of Gaza have seen that they are no different. Both Fatah in the West Bank and Hamas in Gaza have been suffering for some time now from a serious loss of credibility. The decision to launch rockets on the part of Hamas represented a cynical attempt to regain the loss in credibility. One reason for weakening popularity might be that people in Gaza see how corrupt the ruling elite is. For example in contrast to most refugee families, in 2010 PM Haniyeh reportedly purchased a 2,500 square meter plot of land in Gaza City for $4 million. Globes reported that in order not to draw attention to the purchase, he registered the land in the name of his daughter, Nabil. Since then, he has continued purchasing real estate, under the names of his 13 children. The paper also reported that there is no shortage of million-dollar villas for sale in Gaza, and no shortage of people to buy them, mostly Hamas officials. According to Dr Ahmed Karima, a senior lecturer at al-Azhar University in Cairo, Hamas has transformed from a resistance movement to a political party representing no less than 1,200 millionaires. Other Hamas officials who have become rich since the group staged a violent coup in Gaza in 2006 include Politburo Chief Khaled Mashal, who enjoys a bank stash of $2.6 billion, much of which is stored in Qatari and Egyptian banks. (Source and more e.g in Jewishpress )
On the other hand in the West Bank residents speak admiringly of the Islamist militant group Hamas while despairing that Abbas's advocacy for nonviolence has led nowhere. It is claimed from The Palestinian side that the timing of Protective Edge is aimed at derailing a fragile Palestinian reconciliation deal that brought together the various factions, including Hamas, under Abbas's leadership. The battle between Israel and Hamas has laid bare just how little impact the unity deal had on the ground. Abbas has virtually no presence in Gaza, and he lacks the ability to influence events there. Anyway an indisputable loser of ongoing operation is Palestinian Authority President Mahmoud Abbas, who this spring was Israel's partner in U.S.-brokered peace talks but has now been relegated to bystander status.
From Israeli side the official justification for yet another shelling of the Gaza strip, after the 2012 "Operation Pillar of Defence" and the December 2008 "Operation Cast Lead" is the usual one. These strikes are necessary, the Israeli government claims, to destroy devices and bases used for the launching of rockets aimed at Israeli towns. Since Israel withdrew from Gaza in 2005, terrorists from the strip have fired more than 8,000 rockets into Israel.
Political solution?
Military action, however, is not a long-term solution, as Israeli operations in 2012 and 2008-9 showed. Israel seized Gaza in 1967 and withdrew in 2005. It is hard to see how re-occupation would serve Israel's interests. American-mediated negotiations between Israel and the Palestinian Authority failed in April 2014. After that, Mahmoud Abbas, the Palestinian president, reached a reconciliation agreement with Hamas, which has lost support in Egypt and elsewhere in the Arab world. That moment could have been a chance to erode Hamas's political standing further and boost Palestinian moderates like Mr. Abbas. The agreement created a government that had no Hamas members, reaffirmed the Palestinian Authority's longstanding commitment to living in peace with Israel, and would have given the authority a foothold in Gaza.
Israel strongly opposed American recognition of the new government, however, and sought to isolate it internationally, seeing any small step toward Palestinian unity as a threat. Israel's security establishment objects to the strengthening of West Bank-Gaza ties, lest Hamas raise its head in the West Bank. Many Israelis however understand that a unified Palestinian leadership is a prerequisite for any lasting peace.The current escalation in Gaza is partly result of the choice by Israel and the West to obstruct the implementation of the April 2014 Palestinian reconciliation agreement. In my opinion the reconciliation government could have served Israel's interests.
The first step probably will be a return to the November 2012 ceasefire agreement. After that a possible scenario could be implementing Palestinian reconciliation deal with Palestinian parliamentary and presidential elections and start Israeli-Palestinian negotiations again on the basis of two-state solution. As this method has been used last twenty years without progress I have doubts also this time. The Palestinian leaders have "rejected several opportunities to establish a Palestinian state and develop Palestinian civil society." They fear that "accepting reconciliation would transform the Palestinians … from the world's ultimate victim into an ordinary nation-state, terminating decades of unprecedented international indulgence;" it would force them "into responsibility, accountability and the daunting task of state building."
On basis of reading different analysis and looking the mood in some social media forums I think that the idea of taking unilateral steps is gaining ground from the centre-left to the centre-right. One of the possible solutions is The Bennet's sovereignty program. Economy Minister Naftali Bennett has proposed to apply Israel's sovereignty to Area C, beginning with the major settlement blocs. After the recent breakdown in the negotiations with the PLO Bennet said that this was the time for Israel to put its own initiative on the table, and start to "move forward after 20 years of trying one track, which has met with no success." Likud Ministers Israel Katz and Gilad Erdan, as well as Knesset Speaker Yuli Edelstein, have spoken recently about applying Israel law to Area C of the West Bank.
The Oslo Accords divided Judea and Samaria into three areas: Area A, B and C. Area A comprises some 18 percent of the territory, and was transferred to the control of the Palestinian Authority, which enjoys most governmental powers. Authority in Area B, making up 22% of the territory, was divided between Israel and the Palestinians, with Israel retaining security control, and civil matters given over to the PA. Area C, comprising some 60% of the territory – including all the Jewish settlements – remained in Israeli hands. There are an estimated 350,000 Israelis and 70,000 Palestinians in Area C. Under Bennett's plan, the Palestinians would be offered full Israeli citizenship.The proposal includes removing IDF roadblocks in the territory left under Palestinian control, Areas A and B, as well as investing in infrastructure there and pursuing massive economic development. (Source: Jpost )
My conclusion
So my conclusion about operation Protective Edge is that it updates Hamas capasity to terror Israel as well shows the ability of Israel to protect its civilian population. After too many civilian deaths on Palestinian side and after Hamas capacity is destroyd enough for couple of next years and when Hamas in their propaganda can show its strength to fight against Israel there will be ceasefire facilitated by Egypt, Qatar and/or USA in one to three weeks. After that there might be some peace talks round again without result and both parties start to implement their unilateral actions. Is this forecast right or wrong remains to see, but this kind of scenario is from my perspective very possible.
Appendix:
Materials regarding IDF's efforts to avoid harming civilians
(Communicated by the Israeli Government Press Office)


IDF call to warn the population prior to attacking in the Gaza Strip
<http://www.youtube.com/watch?v=7yvQz3SQxGI&list=PLObnKQho8o8PNUxfldeGNOsDFdazchJH8&index=21>
Warning Flyer distributed by the IDF to warn the civilian population of Shuja'iya before an operation
<https://twitter.com/IDFSpokesperson/status/490811849718259712/photo/1>
Israeli Air Force cancels a planned strike due to civilians being in the area
<http://www.youtube.com/watch?v=PuL-OA84p54&index=17&list=PLObnKQho8o8PNUxfldeGNOsDFdazchJH8>
Hamas gathers civilians on a rooftop, to serve as human shields, causing the IDF to avoid an attack
<http://www.youtube.com/watch?v=VTArVIHDelg&index=9&list=PLObnKQho8o8PNUxfldeGNOsDFdazchJH8>
IDF transfers humanitarian aid into the Gaza Strip
<http://www.youtube.com/watch?v=rIm_hf-fG3E&list=UUawNWlihdgaycQpO3zi-jYg>
Video showing the warning given to "Wafa" hospital prior to attack, and the large secondary explosions indicating that the place served as a hiding place for weapons
<http://youtu.be/8O9AHzUKYk8>
Materials indicating Hamas use of civilians as human shields and other violations by Hamas of International Law
IDF video explaining the issue of human shields in Gaza, and placing civilians within the line of fire
<http://www.youtube.com/watch?v=uzFgIhFKII8&feature=youtu.be&list=UUawNWlihdgaycQpO3zi-jYg>
Hamas Spokesman, Sami Abu Zuhri admits: The human shields policy is effective
<http://www.youtube.com/watch?v=eQ6S0-o3uFI&list=PLQWAIPjg0J35g5R7YnlksFFUF4i_IaGOj>
Hamas Spokesman, Mushir El-Masri, calls civilian population not to leave their homes
<http://www.youtube.com/watch?v=TERz6YgOIGo&feature=youtu.be>
Spokesman of the Hamas Military Section, Abu Ubeida admits to using youth as warriors: We manufactured a quarter of a million hand grenades and our boys will throw them instead of throwing rocks
<http://www.youtube.com/watch?v=l_UbLHNFAv4&feature=youtu.be>
Flyer by the Palestinian Ministry of the Interior calling civilians not to comply with IDF evacuation warnings
<http://www.youtube.com/watch?v=P2lB76qTkQA&feature=youtu.be>
Gaza citizens admit that Hamas forbids them from leaving their homes (3:15 mins) <http://www.youtube.com/watch?v=UMUdU3AqlyQ&feature=youtu.be>
Violations of International Law by Hamas
<http://www.youtube.com/watch?v=jOAVEpfusvQ&list=UUawNWlihdgaycQpO3zi-jYg>
Hamas uses an ambulance to help militants escape a battle area
<http://www.youtube.com/watch?v=7O114V9PdmM&list=UUawNWlihdgaycQpO3zi-jYg&index=7>
Stockpile of ready-to-fire rockets hidden by Hamas next to a school in Gaza
<http://www.youtube.com/watch?v=u57yxd753f8&index=9&list=UUawNWlihdgaycQpO3zi-jYg>
Hamas militants shoot from residential homes
<http://www.youtube.com/watch?v=rfbjO2WznEk&index=10&list=UUawNWlihdgaycQpO3zi-jYg>
Video proving that Hamas uses explosive tunnels
<https://www.youtube.com/watch?v=zn2Vee_N8SM&list=UUawNWlihdgaycQpO3zi-jYg&index=2>
Aerial photo of shooting next to a hospital and a mosque
<http://www.idfblog.com/wp-content/uploads/2014/07/Shujaiya-square.jpg>
Infographic: Terror tunnels in Shuja'iya
<http://www.idfblog.com/wp-content/uploads/2014/07/xray-cityspaen.jpg>
IDF infographic of an aerial photo about Shuja'iya
<https://twitter.com/IDFSpokesperson/status/490833439222804481>
Journalist in Gaza tweets: Hamas militant in Shuja'iya fighting wearing women's clothing
<https://mobile.twitter.com/janisctv/status/490864436518080512>
Washington Post report: Hamas militants placing rockets in a mosque in the north of the Gaza Strip
<http://m.washingtonpost.com/world/gaza-residents-scramble-to-make-most-of-five-hour-truce/2014/07/17/e5485fce-0d7e-11e4-8341-b8072b1e7348_story.html>
UNRWA admits: Hamas hid rockets in one of our schools in Gaza <http://www.unrwa.org/newsroom/press-releases/unrwa-strongly-condemns-placement-rockets-school>
A second case in which UNRWA admits to finding a stockpile of rockets hidden in one of their schools
<http://www.unrwa.org//newsroom/press-releases/unrwa-condemns-placement-rockets-second-time-one-its-schools>
Collection of photos of tunnels dug by Hamas in the Gaza Strip <https://www.flickr.com/search/?w=45644610@N03&q=tunnel>
Articles
Article on Hamas use of civilians as human shields
<http://www.terrorism-info.org.il/Data/articles/Art_20669/E_111_14_2032155167.pdf>
Article on Hamas use of mosques for military purposes
<http://www.terrorism-info.org.il/en/article/20672>
Article on Hamas use of schools for military purposes
<http://www.terrorism-info.org.il/he/article/20680>
Article on use of the home of a Hamas terrorist for storing weapons
<http://www.terrorism-info.org.il/he/article/20677>
Article on use of medical facilities and ambulances for military-terrorist purposes
<http://www.terrorism-info.org.il/en/article/20683>
Epilogue: